The Bank of China Tower was built in 1989 according to the plans of Chinese-American architect Ieoh Ming Pei. It has a distinct shape and design and spectacular lighting.
Strikingly designed with triangular frames covered by glass walls, the Bank of China Tower is one of the most distinctive and beautiful skyscrapers in the world, in our opinion. Its architect, Ieoh Ming Pei, also designed the iconic pyramid at the Louvre in Paris.
Facts & figures
Built on the former site of Murray House, a Victorian-era landmark that has now been moved to the Stanley district, the Bank of China Tower is 367 metres tall and has 72 floors. When it was completed, it was the tallest building in Asia, a record it held until 1992 when the Central Plaza was constructed. It was also the first skyscraper outside the United States to break the 305 metre mark.
As well as housing the headquarters of the Hong Kong branch of the Bank of China, the Tower is one of the most emblematic buildings of the city's skyline. Every night, together with the Two International Finance Centre, it becomes one of the stars of the Symphony of Lights show.
Floor 43 viewpoint
An observation deck offering views over the surrounding skyscrapers of Central is located on the 43rd floor of the Bank of China Tower. Entry is free, and all you need to do is present your passport at the ground floor of the building for access to the lift.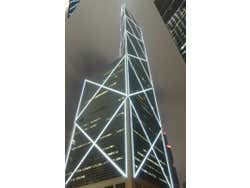 Transport
MTR: Central Station exit J2.