Hong Kong Museum of History
A museum showcasing Hong Kong's historical and cultural heritage from settlement 400 million years ago to the handover from Britain in 1997.
Spread across 7000 square metres in the Tsim Sha Tsui district of Kowloon, the Hong Kong Museum of History showcases the history of Hong Kong in an entertaining and informative way. The various parts of the museum are dedicated to the region's natural history, ethnography, local history and archaeology.
Exhibitions
The museum is divided into different spaces which illustrate Hong Kong's history through dioramas, multimedia presentations and displays of objects:
The Natural Environment: examples of fossils, rocks, flora and fauna demonstrate the geological periods in Hong Kong's past.
Prehistoric Hong Kong: archaeological findings dating back 6000 years.
The Dynasties: from the Han to the Qing: how the Chinese dynasties shaped the region's history.
Folk Culture in Hong Kong: customs, traditions and celebrations of the different ethnic groups in Hong Kong.
The Opium Wars & the Cession of Hong Kong: causes and consequences of the war.
Birth & Early Growth of the City: discover what life was like in Hong Kong before 1941.
Japanese Occupation: a recreation of an air-raid shelter gives an idea of the tension and atmosphere of Hong Kong under Japanese occupation.
Modern Metropolis & the Return to China: post-war Hong Kong and its growth into a contemporary and vibrant metropolis.
An interesting visit
The Hong Kong Museum of History reveals the city's past through entertaining visual exhibitions, making it an ideal stop for those wanting to get to know Hong Kong better.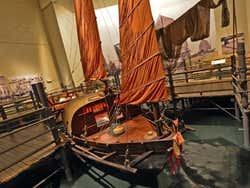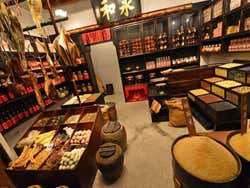 Schedule
Monday, Wednesday, Thursday and Friday: 10 am to 6 pm.
Saturdays, Sundays and public holidays: 10 am to 7 pm.
Closed Tuesdays.
Price
Permanent exhibition "The Hong Kong Story": free entry.
Transport
MTR: Tsim Sha Tsui, red line; East Tsim Sha Tsui, purple line, Hung Hom, light blue and purple lines.
Bus: lines 5, 5C, 7, 8, 8A, 13X, 26, 28, 35A, 41A, 70A, 81C, 87D, 98D, 98P, 208, N216, N241, N271, N281 and 796X.