Opened in 1970 on the site of a former British military fortress, Kowloon Park is a large and peaceful green space located in the Tsim Sha Tsui area.
Spread across 13 acres, Kowloon Park is one of the largest parks in Hong Kong. A former British military base, it was converted to a public park in 1970.
A walk in the park
Kowloon Park has children's play areas, a swimming pool, a sports centre, a Chinese garden, benches, several lakes, a maze and an aviary. There are numerous paths throughout the park, and it's important to stick to them, as it's prohibited to step on the grass in many of the green areas.
Located next to the park is the Kowloon Mosque, built in 1984 and currently the largest Islamic worship centre in Hong Kong. Within the park, you'll also find the Hong Kong Heritage Discovery Centre, located in two blocks of the historic army barracks. The museum showcases the origins of the city, although its exhibitions are not as extensive as the Hong Kong Museum of History located nearby.
On Sundays from 2:30 pm to 4:30 pm, demonstrations of dragon dances and martial arts take place within the park to give visitors a taste of local culture. There are also bird shows.
Kowloon's green lung
Thanks to its numerous attractions and its location in the popular Tsim Sha Tsui area, Kowloon Park is one of the most popular green spaces in this area of Hong Kong, frequented by locals and tourists alike.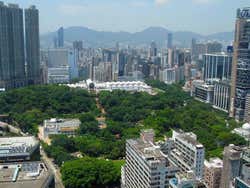 Schedule
Daily from 5 am to midnight.
Transport
MTR: Tsim Sha Tsui and Jordan, red line.
Bus: lines 1R, 2, 6, 7, 9, 13X, 62S, 208, 219P, 219X, 224X, 260X, 268B, 269B, 270A, 271, 610S, 973 and 973P.