The Hong Kong Flower Market is a paradise for the senses, immersing you in a world of vibrant colours and enticing aromas. Discover it!
A jungle of exotic plants and beautiful blooms, the Hong Kong Flower Market is a treat for the senses and the place to go for locals and tourists alike to carefully select their plants and flowers.
Luck-bringing plants and colourful flower cuttings attract buyers every day, but the real highlight of the bustling market is the run up to Chinese New Year when people flock to buy greenery to bring fortune for the year ahead. 
The Flower Market is located on Flower Market Road, Prince Edward Road West, Sai Yee Street and Yuen Po Street.
Worth a visit?
Most likely, you're not planning to buy flowers during your trip to Hong Kong, but even so, we recommend taking a stroll through the colourful Flower Market just for the experience. It's located just next to the Bird Market, making for the perfect opportunity to combine visits.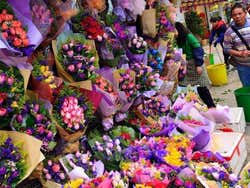 Schedule
Daily from 7 am to 7 pm
Transport
MTR: Prince Edwards, red and green lines; Mong Kok East, blue line
Bus: lines 1, 1A, 2C, 3C, 12, 17M, 42, 44S, 46, 58S, 61S, 63S, 65S, 66S, 70, 95, 104, 203, N216 and 805S