With 8 hectares of green space, Hong Kong Park is an oasis of peace and tranquility amidst the skyscrapers of the city's busy financial district.
Located amongst the skyscrapers of Central, the city's financial district, Hong Kong Park is a vast green space providing a striking contrast to the glass and steel around it.
Places of interest in the park
Throughout the 8 hectares of the park, there are a number of different attractions:
Aviary: opened in 1992, a year after the park's inauguration, the aviary is home to 80 species of bird living in a tropical forest.
Botanical Garden: one of the largest in Southeast Asia with a huge variety of plants.
Lake: the artificial lake is a habitat for various species of fish and insects. More than 100 types of dragonfly live in Hong Kong and the vast majority are found in this park.
Museum of Tea Ware: part of the Hong Kong Museum of Art, this small museum showcases the history of Chinese tea ware.
The park also has leisure facilities including squash courts, a sports centre, a garden to practice Tai Chi and a children's play area.
A pleasant escape
Hong Kong Park provides a peaceful escape from the hustle and bustle of the city, however if you're planning to explore the whole park, bear in mind there's a lot of steps and steep slopes, so it can be tiring. The best time to visit the park is first thing in the morning.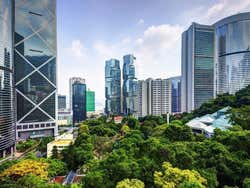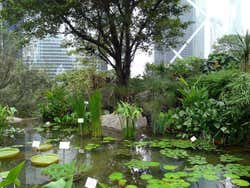 Schedule
Daily from 6 am to 11 pm.
Aviary and botanical garden from 9 am to 5 pm.
Transport
MTR: Admiralty exit C1, Island Line (blue line) and Tsuen Wan Line (red).