Two International Finance Centre
Completed in 2003 with a height of 415 metres and 90 floors, it was the tallest building in Hong Kong until the International Commerce Centre was built.
Two International Finance Centre is built a few metres from Central Station on Hong Kong Island and, alongside the Bank of China Tower, is the most impressive skyscraper in the area. They are two of the stars of the Symphony of Lights ​show.
In the movies
The skyscraper has appeared in multiple films, perhaps the most notable being "Tomb Raider: The Cradle of Life" and "The Dark Knight". In both movies the protagonists are on top of the building.
One International Finance Centre
A few metres from the Two International Finance Centre is its little brother, One International Finance Centre. Its construction was completed in 1998, and it's 210 metres tall with 39 floors.
Floor 55: a free viewpoint
The headquarters of the Hong Kong Monetary Authority, the country's central bank, is located on the 55th floor. As well as an exhibition showcasing banknotes and coins over time, the space offers excellent views of the area and it is free to go enter, making it well worth a visit!
Floor 55 is open Monday to Friday from 10 am to 6 pm and on Saturdays from 10 am to 1 pm. You must present your passport to enter.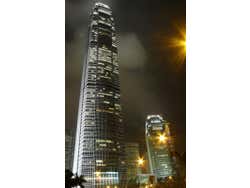 Transport
MTR: Hong Kong Station exit J2.