Built on reclaimed land from a former typhoon shelter, Victoria Park covers more than 19 hectares in Causeway Bay, in the north of Hong Kong Island.
Formerly a typhon shelter used as a refuge by fishing boats during typhoon seasons, the 1950s saw this large piece of land in Causeway Bay being reclaimed and converted into a public park. It is named after the British Queen Victoria.
A walk in the park
At the main entrance to Victoria Park, there is a statue of Queen Victoria which was one of many to be taken during the Japanese occupation to be melted down. However, it was rescued and moved to its current location.
The park offers numerous facilities including tennis courts, a swimming pool, children's play areas and large lawn and shaded areas.
Victoria Park has also come to be a popular meeting point for Hong Kong's domestic workers on their day off, Sunday.
Not a must see
While Victoria Park is an extensive and well-equipped public park offering plenty of opportunities for outdoor sport and exercise, there are other more centrally-located green spaces that may be more convenient to enjoy during your trip, like Kowloon Park and Hong Kong Park.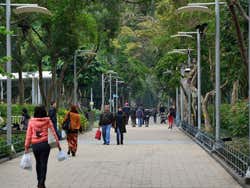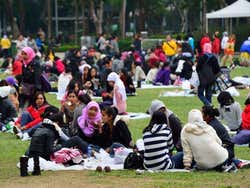 Schedule
Open 24 hours all year round.
Transport
MTR: Tin Hau and Causeway Bay, blue line.
Bus: lines 2, 5, 8, 10, 19, 23, 25, 77, 99, 102, 112, 116, 170, 680, 692, 948 and 968.