Po Lin Monastery is the most important Buddhist monastery in Hong Kong. It is located in Ngong Ping, the highest part of Lantau Island.
Founded by three monks in 1906, the Po Lin Monastery has more than a century of history behind it. Initially it was called The Big Hut, but in 1924 it acquired its current name, Po Lin, which means the Beautiful Lotus.
What to see at the monastery?
The monastery grounds include the temple, the monks' houses, a vegetarian restaurant and several shops to buy incense. Next to the shops you will find incense burners of different shapes and sizes where the faithful and tourists leave their newly purchased offerings.
The temple is home to three Buddha statues representing the past, present and future, along with numerous Buddhist inscriptions. If you're lucky, your visit will coincide with the monks doing a ceremony.
Next to the temple is the impressive Tian Tan Buddha, meaning you can easily visit both at the same time.
How to visit Po Lin?
The best way to get to the Po Lin Monastery is taking the Ngong Ping 360 Cable Car. During the 25 minute ride from Tung Chung, you'll enjoy breathtaking views of the sea, mountains and the city of Hong Kong below you.
It is also possible to reach Tian Tan by bus, taking line 23. While this option is cheaper, it doesn't offer the spectacular views that the cable car does, and the journey is longer due to poor road conditions.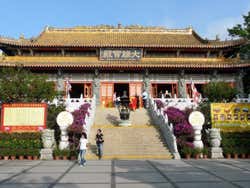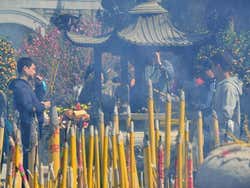 Schedule
Daily from 10 am to 5:45 pm.