Antique Market and Cat Street
Located on Hollywood Road and Upper Lascar Row (Cat Street), Hong Kong's Antique Market has been the place to search for treasures since the 1920s.
Hong Kong's antiques market is based around Cat Street, home to numerous antique shops and art galleries. The area offers endless opportunities to hunt for unique treasures from furniture to decorative ornaments and beautiful handcrafted items. You can also find interesting pieces of jade and embroidery and silk products.
Did you know?
Cat Street is not named for its feline inhabitants. The real story behind its name is that in the 1920s, the local bazaar began selling antiques and second-hand items, before earning a reputation for stolen goods. In Cantonese, stolen items are called "rat goods" and the people who buy them are called "cats" and so this area of Hollywood Road and Upper Lascar Row is now called Cat Street.
A lively area
During the day, Hong Kong's antique market attracts many visitors, both genuine shoppers and people just strolling through for the atmosphere. At night, thanks to its location near Central - the city's answer to Soho - the district is packed with up-market bars and the expats who frequent them.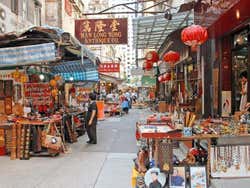 Transport
MTR: Sheung Wan, blue line; or Central, blue and red lines, and then take the Central–Mid-Levels Escalator to Hollywood Road.
Bus: lines 26 and H1.