One of the best known and most popular temples in Hong Kong, Wong Tai Sin Temple is a Taoist shrine famed for answering prayers.
With the enticing reputation of "answering every prayer", Wong Tai Sin Temple, also known as Sik Sik Yuen Wong Tai Sin, is one of the best known and most popular temples in Hong Kong.
Getting to know the temple
The Taoist temple is dedicated to Wong Tai Sin, or the Great Immortal Wong, a deity believed to possess the power of healing. Believers flock to the shrine to have their prayers granted through a fortune telling practice known as kau chim.
Built in colourful traditional Chinese architectural styles, the temple complex is spread across 18,000 square metres and is home to different facilities including a Nine Dragon Wall, a number of halls and pavilions, and fortune telling stalls. The temple also houses an important collection of Confucian, Taoist and Buddhist literature.
Unmissable
The Sik Sik Yuen Wong Tai Sin Temple is one of the most impressive and well-known temples in Hong Kong and is a must-see monument on any trip thanks to its beautiful architecture and the insight it offers into local culture.
In the first half of January and during Chinese New Year celebrations, the temple is filled with worshippers praying, making offerings and lighting incense.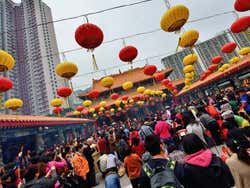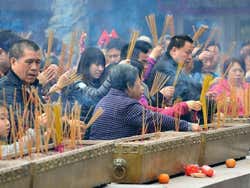 Schedule
Daily from 7 am to 5:30 pm.
Transport
MTR: Wong Tai Sin, green line.
Bus: lines 18M, 37A, 37M, 38, 38M, 40P, 42C, 70X, 74A, 75X, 80, 80P, 84M, 89, 89B, 258D, 258P, 258S, 259D and 501S.